Coloma Fresh Frozen Fruit Sale
The Big Fruit Order for the New Season will be underway soon! However, we can place weekly orders now on Friday morning for pickup usually the following Friday. Orders can be placed by phone (812-384-4512) or using the online order form located to the right above.
Farmer's Marketl - We will be at the Farmer's Market on the square in Bloomfield Friday nights 5:00 p.m. to 8:00 p.m. Come and check it out!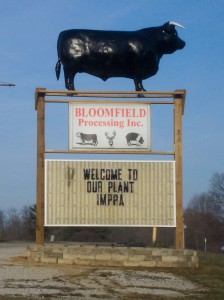 Welcome to Bloomfield Processing Inc. formerly Bloomfield Locker.  We offer a wide variety of services including custom meat processing, retail meats, frozen fruits vegetables as well as livestock hauling. Within season, we also process game for area hunters and are now an official check station for both deer and turkey hunters. Individuals contact us to get quality meats cut and wrapped to their personal specifications. More and more people are becoming health conscious and by buying a locally raised animal, they can inquire on how the animal was fed and cared for to be assured of getting the freshest meat possible.

Bloomfield Processing Plant employees pose with the five ribbons won at the recent Hoosier Cured Meats Championship competition at West Lafayette, sponsored by the Indiana Meat Packers and Processors Association. They are (from left) co-owner Bryan Kollmeyer, co-owner Mary Kollmeyer, Garrett Vandeventer, Lisa Moore, Lisa Vandeventer, and Grady Braley.
(Photo by Nick Schneider)
A Bloomfield-based meat processing company is again a state award winner.
Owners Brian and Mary Kollmeyer are elated that several of their meat recipes for locally produced products have been judged among the best in the state.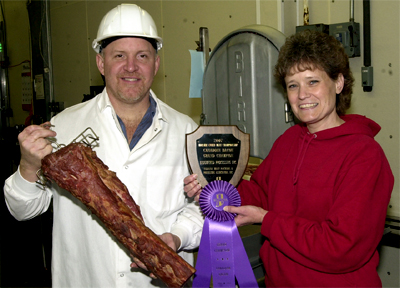 BLOOMFIELD – It's been said that Brian and Mary Kollmeyer bring home the bacon, and the ham, and the steaks and the summer sausage. But at the recent Indiana Meat Packers and Processors Association's annual convention, the Kollmeyers – and their Bloomfield Processing locker plant – brought home a major honor. The couple's Canadian Bacon – seasoned and smoked to perfection – won honors as the state's top Canadian Bacon.
A new recipe for a spicy beef summer sausage originated by a Bloomfield firm has been judged among the best in the state of Indiana.
A "Three-Pepper Beef Summer Sausage" produced by Bloomfield Processing Company was awarded Reserve Grand Champion distinction last weekend at the Hoosier Cured Meats Championships, sponsored by the Indiana Meat Packers and Processors Association.